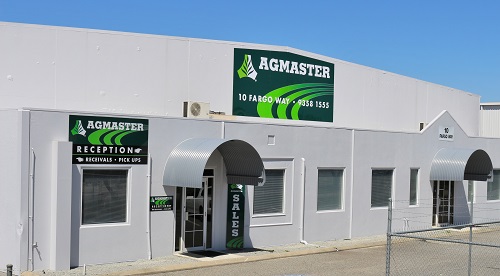 Agmaster's manufacturing facility and office is located in Welshpool, Perth, Western Australia. The business re-located from Collie in 2014.
The new premises is well equipped with some of the latest technology in manufacturing machinery and employs 12 full-time staff.
In the factory, where possible, production processes are carried out with automated machinery. This includes:
Robot Welder – used to weld components where possible and practical.
Auto-feed Bandsaw - for cutting pipe and RHS
Plasma Cutter – this machine is CNC controlled (computer numeric controlled) and uses the latest torch technology to cut underwater. Typically plate is cut in 50-75mm of water depth. The major benefits of this are to restrict plate distortion, minimize noise and fume. All parts to be cut are computer drawn and then nested using a specific software program to maximize the plate utilization and minimize waste.After a cutting program is generated in the office it is downloaded to the machine via a fibre optic cable link. An operator then activates the program and sets the machine going. From this moment the machine is self managed and generally requires very little operator support. Fast, clean cutting is then achieved, e.g. 10mm plate is typically cut at 2500mm/minute (just over 40mm/second).
Profile Cutter – CNC controlled similar to Plasma except it has 4 oxy LPG cutting torches.
CNC Lathe – for machining of components.
CNC Twin Pallet Milling Machine – allows the operator to unload and load one pallet whilst opposite pallet is being machined. All knife points are machined in this machine to produce an optimal surface for tungsten application.
Heat Induction Units – designed to provide uniform, consistent heating for tungsten application.
3D Printer - has been a great tool for our product development processes. It enables us to print a full size model in plastic so we can see what does and doesn't work and adjust our designs accordingly.
The factory has also numerous other punching, cutting, bending and purpose build machines for processing components.